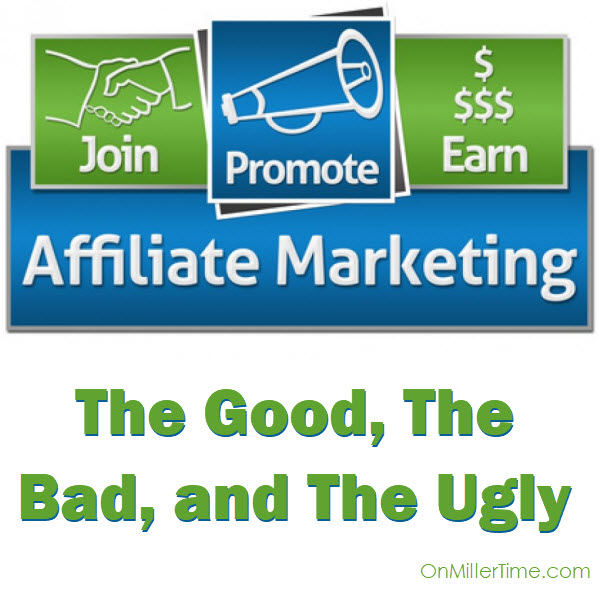 Welcome to Affiliate Marketing 101!
Getting into Affiliate Marketing can be daunting. Currently I have about 5000 account through various venues. Honestly I don't even know who I have anymore but it doesn't really matter because I now have access to just about all of them. This took me YEARS!!!
There are literally thousands of companies you can work with – some are great, some not so great. Here is what I have learned from 10 years in affiliate marketing. My picks for best and suckiest of them all!
TERMS:
Affiliate program – program that allows you to sell for a company
Broker – company that handles many affiliate programs
Tracking – the programs sales and commission reporting
Publisher – that is you. You are selling for the Affiliate programs.
TRADITIONAL AFFILIATE ACCOUNTS:
These are the basic straight forward affiliate programs – you have a contract with a company directly (like Gap or Walmart).
You need to have an affiliate account for EACH company you want to work with.  To get in the programs you want, you will need to APPLY for each of these accounts. The program manager gets to decide if they want you in their program. They look at your stats, content, and aesthetics to determine if you are a valid site. Most take FOREVER to make up their minds because most companies manually approve new affiliates.
In most cases, having a direct contract with the company will score you the highest commission rate.
NOTE: Not all affiliate programs in these manually approve, some are on auto but you need to apply to find out.
BROKERS THAT DO TRADITIONAL THAT I LIKE:
These are the big dog traditional programs. I would go ahead apply to get into all of these. Some may take a while!
Amazon – All time fav! They have easy linking, good commissions (not great like they used to be) and a MILLION products. MUST HAVE!!!
eBay – Again easy links and access to millions of products.
CJ – THOUSANDS of companies like Gap, Old Navy, 6pm, AE, and more. Most are manual approve.
Linkshare – WALMART, Kohl's, JCP, Best Buy, Macy's, and more. Again manual approve.
ShareASale – You are called Affiliate with these guys. Great programs that pay well – Jane, Fanatics, and more. Half manual, half auto.
Discount Mags – Magazine subscriptions. GREAT commissions!
ShopYourWay – This is the Sears/Kmart program. You get paid commission on EVERY your clients make!
BROKERS THAT DO TRADITIONAL THAT I HATE:
There are a few companies out there that I just hate. I never do well with them and their tracking always blows.
Impact Radius – More and more affiliate programs are moving to them and they suck. For real I have never been able to make ANY money with this one.  They must charge less fees or something because every day I get emails about another program going there and I really don't understand why.
Kohl's moved there and my income plummeted 90% – YES 90%!!!! Luckily I was able to keep them with Linkshare so it went back up. Yes, there tracking is THAT bad!!! I would stay away from this one
PepperJam – Another one that seems to be getting popular and I don't get why. I NEVER make any money with them. Shutterfly moved to them a few years ago and our commissions tanked. We keep using the ShareASale one and we do great!
AUTO APPROVED AFFILIATE ACCOUNTS:
There has been a new wave of doing things over the last few years. Brokers have popped up that offer several programs all included into one account. Basically you apply to get into the program and if accepted you have access to thousands of affiliate programs. These are basically targeted towards lifestyle/food bloggers but others can get in as well.
These are great for newer websites because you get access to a lot of programs at once. Normally these commission rates are lower than direct contracts but not always. I have seen some instances where the commission rates were higher because they can negotiate them due to their size. Either way, these are the easy ones!
BROKERS THAT DO AUTO APPROVE THAT I LIKE:
BrandCycle – LOVING THIS ONE!! They are just like RewardStyle except they actually seem to be reputable and honest. It's geared towards lifestyle bloggers so it has a lot of the higher end clothing lines you can't get anywhere else.  Get this one!
ShopYourStyle – Like BrandCycle it has about the same companies. EASY to get into!
Savings – They have just about everyone. This is my fall back but the commission rates stink.
SkimLinks – You can link to just about anyone but the commission rates aren't great.
VigLink – Again, you can link to just about anyone but the commission rates aren't great.
BROKERS THAT DO AUTO APPROVE THAT I HATE:
RewardStyle – This is a true lifestyle program. They ONLY want those sites. Around Christmas they let in a BUNCH of frugal deal sites like mine. Not sure if it was a mistake or intentional. We made a ton with them in just a few weeks because they have access to some great programs with super high commission rates. We were making Amazon type money with them!!
After Christmas they changed their contract and closed ALL of the deal site accounts saying they weren't going to pay. Not just ours, ALL of the deal sites we know got shut down. We couldn't even get in to see our commission. This was sketchy as all get out as the total commissions owed was tens of thousands, if not more. After many threats of lawsuits they decided to pay everyone. As far as I know, they did honor those commission payments. I know we got paid.
If you can get into this program it is a great one, but make sure your site fits the requirements or you could get screwed!
FlexOffers – I have worked with this one for years and they now suck ass. Their tracking is horrible and their links die after a few weeks. Yes, their affiliate links quit working. I have had to change out THOUSANDS. Stay away!
PAY PER CLICK AFFILIATE ACCOUNTS:
There are companies that will pay you for each lead you can generate. This can be anywhere from $0.05 to $500 it just depends on the offer. Hey if you can find Mesothelioma patients you can retire – payout was $1500 per lead once!!!
You will need to apply for each program. This is one where you will want them all. Some carry the same offers and the payouts can be MUCH different!
Optimal Fusion – This one is awesome. I have made a ton promotion Home Chef and various other companies through them. They
MySavings – This one has been around for ever, they are one of the oldest and most trusted.
Panthera Interactive – One of my personal favs. Their tracking is amazing. I have made thousands with this company!
Search Cactus – Another good one has a lot of the same offers as above.
Just another cool program…
RevResponse – Promote free ebooks and articles. Most pay about $1 per lead!

Hope this helps. Watch for more articles!